Here it is. Another weekend full of racing. We are going to call this weekend, "The One With All the Run Ups". I hope you have been working on your running and shouldering technique because you are going to be putting it to good use. Lap after painful lap. Cross on the Rock is first up on Saturday at Mt Washington (50ft run up), followed by the Vancouver Cyclocross Coalition/Devo Donkey Cross (which has historically featured 3 knee busting run ups) on Sunday. Don't forget those toe spikes because it could get a bit slippery. Forecast is calling for a bit of rain.
If you need some extra practice, check this tutorial out
and prepare yourself for a lot of this:
Cross on Top of the Rock – Mt Washington – Sept 17
Cross on the rock is back this weekend with a brand new venue for 2016. Mt Washington Alpine Resort plays host to the second race in the COTR series.  Part of the fun of cyclocross is getting the chance to check out new venues and this sounds like it's going to be a challenging one. From the organizers:
"The course has been described as 'lumpy' with compacted grass sections, wide open gravel, a mix of pavement and paving stones and we even snuck in a section of singletrack. The crux of the course is the 50 foot run-up. Perhaps with the right gear and tire combination, and if you have pistons for legs you may not have to dismount."
So there you have it. It's going to be a tough one that will test your entire quiver of cyclocross skills. And the best part? "The mountain is still open so bring your park bike to send it after your race and don't forget your wallet for post race bevies and burgers at Teds."
COTR is going with a pretty much mandatory pre-reg this year, so don't delay and get signed up: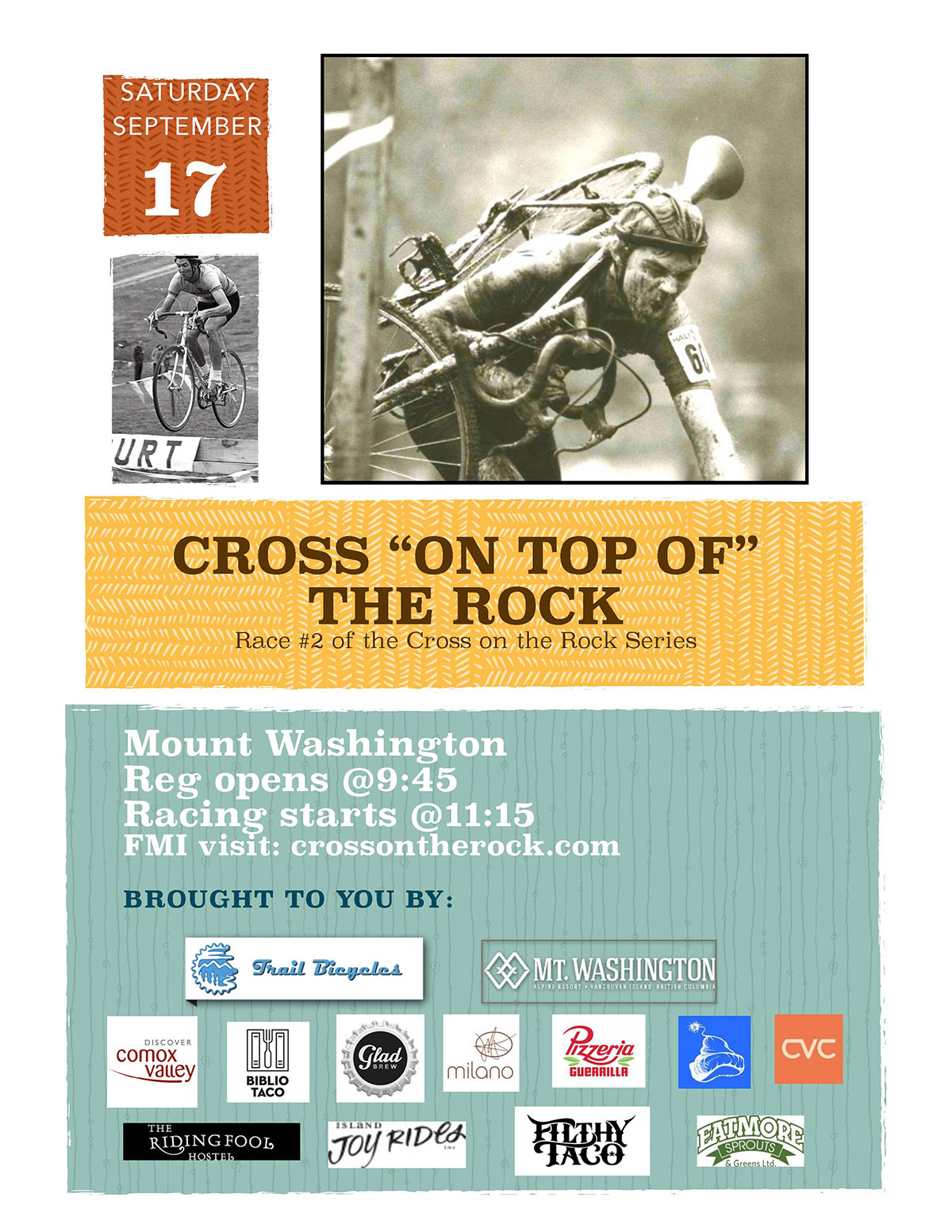 More info: http://www.crossontherock.com/races/top-of-the-rock-cross/
Donkey Cross – Port Coquitlam – Sept 18
Vancouver Cyclocross Coalition has their second offering for 2016 with the crowd favourite venue of Castle Park in Port Coquitlam. A park with a fair bit of elevation but tight enough to remain spectator friendly, it will have your legs burning. Flowy sections, twisty corners, painful run ups, and a cute donkey. This race has it all. To top it off there is a some rain in the forecast, so we could see a bit of mud out there. Bring your family and friends out and make their head spin as you whip past in all directions sporting a perma pain face. Just make sure to reassure them that you do actually enjoy this self inflicted suffering.
Race report from the 2014 race: 4 Things I Learned at Castle Cross
And more photos:
Interior Cyclocross
The interior also has a double header going on this weekend with the Sizzle at Sovereign on Saturday followed by The Burn in Vernon on Sunday.  More info for the interior races can be found here: http://bcinteriorcross.ca/
See you at the races.
-Brett